What's Happening NOW
in The Meadoway
There's always something on the go in The Meadoway , as Toronto and Region Conservation Authority (TRCA) works to transform a 16 km stretch of the Gatineau Hydro Corridor into a thriving meadow.
Check this page regularly to get our latest trail building and meadow restoration updates.
September 2022
Some exciting news from The Meadoway: the permanent bridge is now in place!
Once complete, the bridge will take users over the East Highland Creek to an elevated boardwalk. An accessible switchback trail on the east slope of the ravine will take users back into the hydro corridor and newly restored meadow habitat, where it will connect to Neilson Road.
Bridging this gap in The Meadoway is a huge project milestone for this iconic trail system.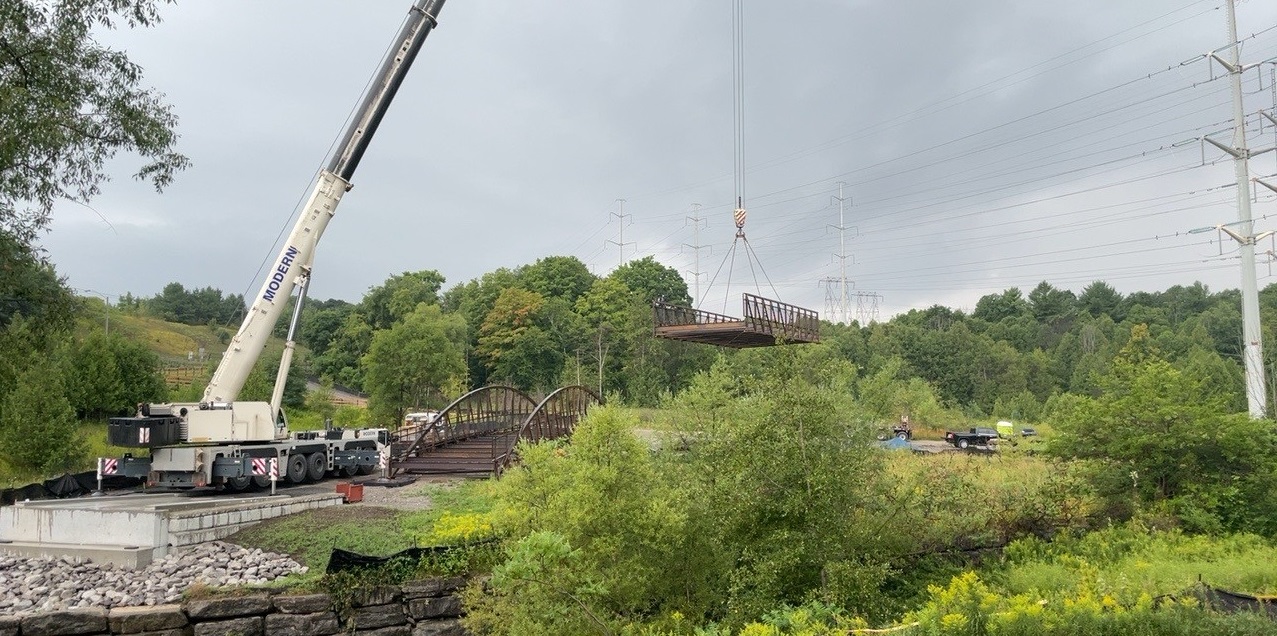 Following completion of the bridge installation and formalization of the switchback and at-grade trail, disturbed areas will receive a layer of topsoil and terraseeding, followed by additional planting by TRCA's Restoration Ecosystem Management team in early 2023.
Stay tuned for updates on when construction of this section of The Meadoway, from Military Trail to Neilson Road, will be complete and open to the public.
July 2022
As shown in the photo below, paving and fence installation is well underway as crews work towards completing the Meadoway multi-use trail connection from Military Trail along Ellesmere Road to Neilson Road.
The next major milestone will be the installation of a permanent pedestrian/cycling bridge across East Highland Creek. Stay tuned!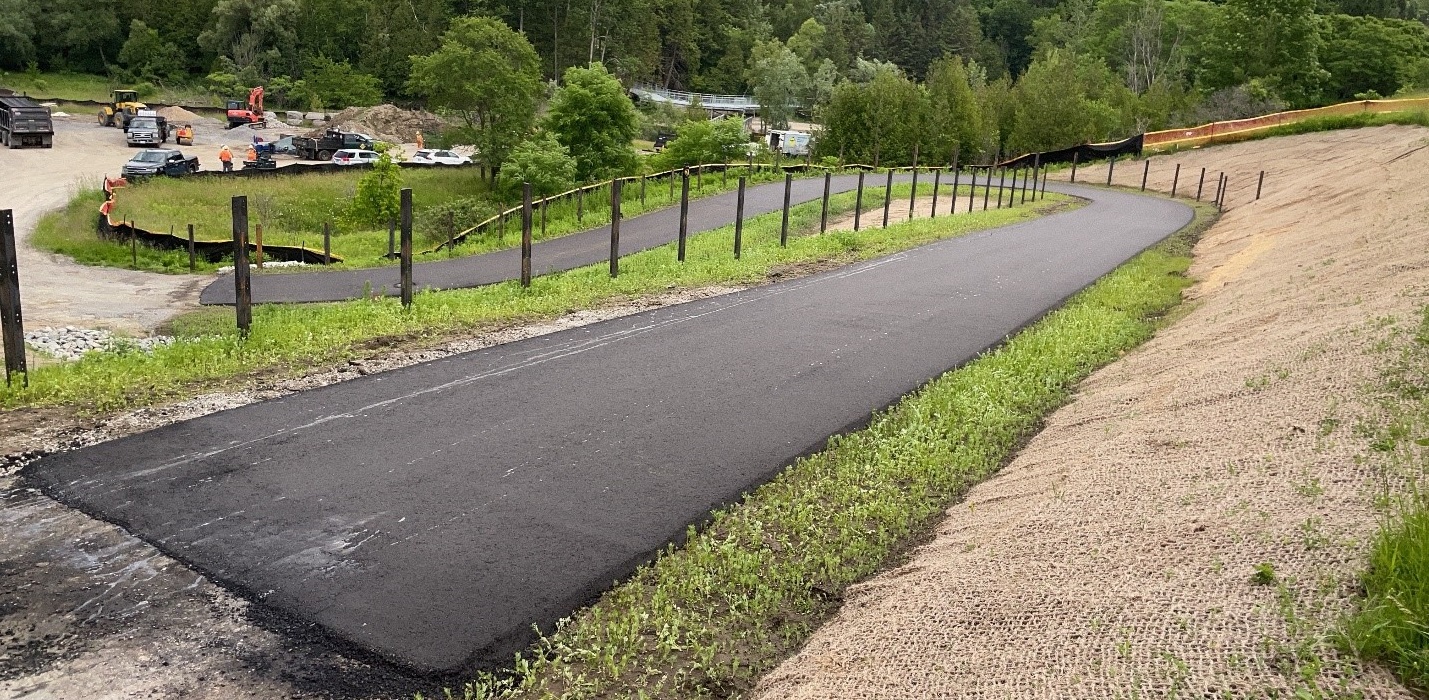 June 2022
Good news! Staff have begun meadow site preparation in the Highland Creek section of The Meadoway. Currently under construction, this section will form a key segment in the overall trail network.
Restoration staff have begun rototilling the turfgrass to help remove invasive species and prepare the soil for native seeding. This will occur several times throughout the summer to ensure the area is ready for seeding this fall.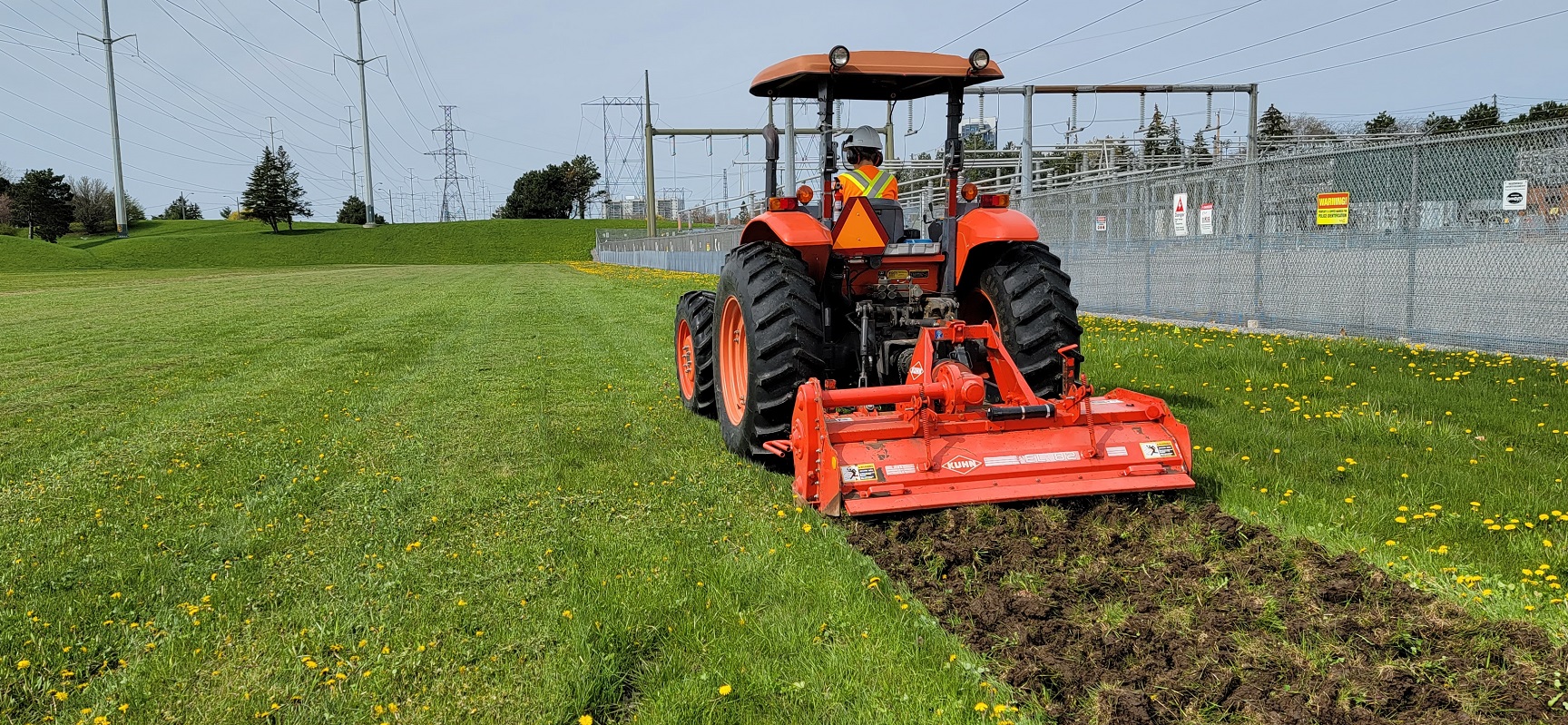 Did you know that by keeping the turfgrass around the meadow footprint mowed, sightlines along the trail are maintained and the spread of invasive species in the meadow and adjacent properties is reduced?
With the warmer temperatures and spring rain, the turfgrass and meadow have grown substantially in the last month. Restoration staff have been working to keep the turfgrass at bay while allowing the meadow to flourish in time for summer.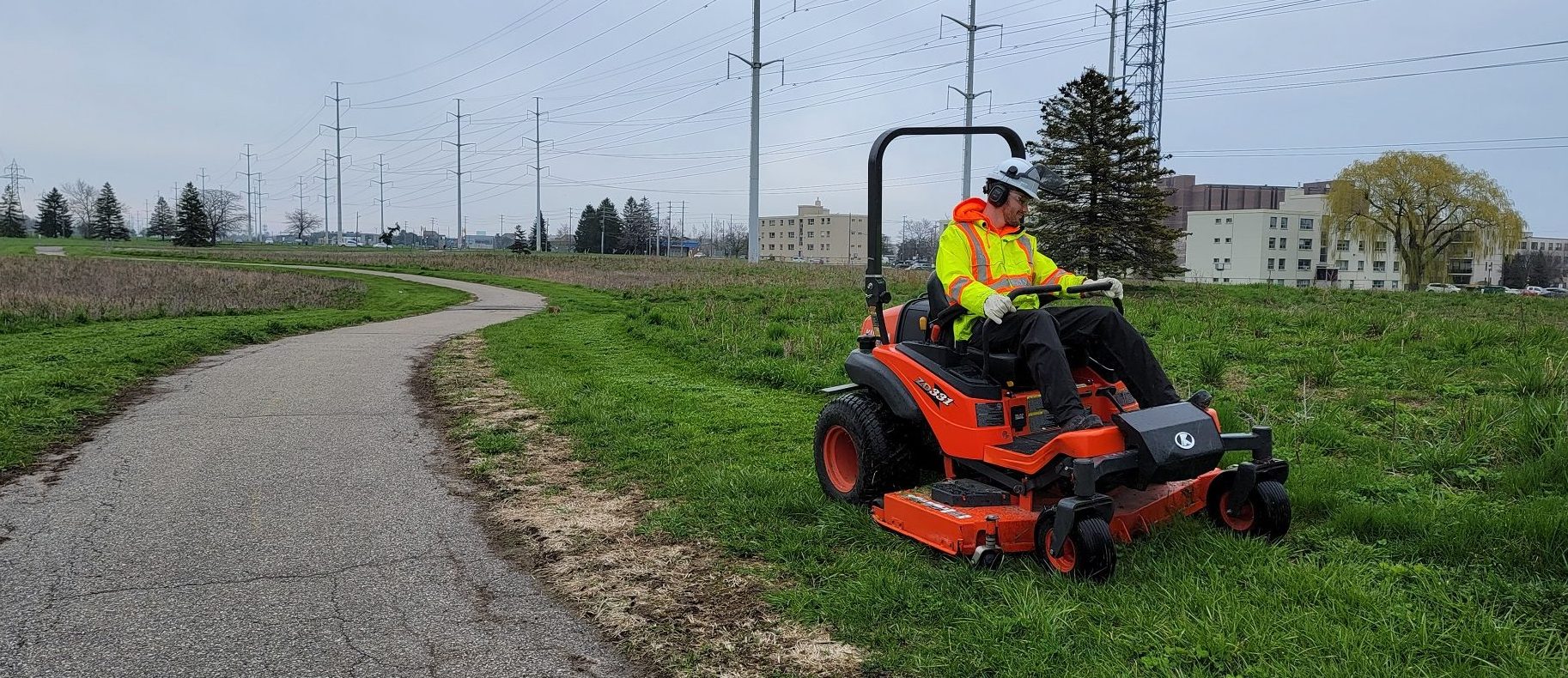 Maintenance mowing in the established meadow sections is also an important part of the job!
Mowing the meadow helps to increase the breakdown of the dead standing plant material. Doing this exposes bare soil and increases seed germination, helping plants to grow.
This would naturally be done through large animal grazing or fire, but staff are able to mimic these practices through mowing.
Restoration staff take extra caution to ensure that mowing occurs before birds return to The Meadoway to breed.