What's Happening NOW
in The Meadoway
There's always something on the go in The Meadoway, as Toronto and Region Conservation Authority (TRCA) works to transform a 16 km stretch of the Gatineau Hydro Corridor into a thriving meadow.
Check this page regularly to get our latest trail building and meadow restoration updates.
August 2023
TRAIL CONSTRUCTION UPDATE
The trail from Military Trail to Neilson Road is nearing the finish line! Construction crews are moving into the final stages of work including seeding and paving.
View The Meadoway Public Access Map.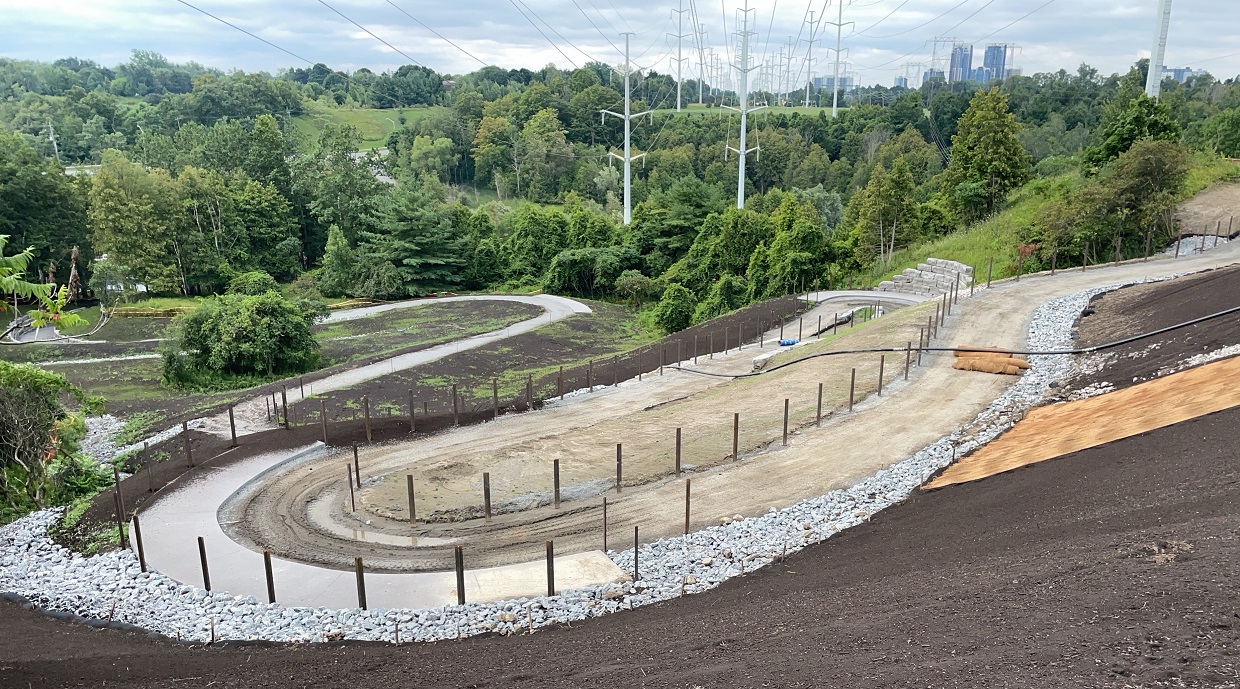 June 2023
TRAIL CONSTRUCTION UPDATE
The Meadoway trail from Military Trail to Neilson Road is well underway and will be open to the public by Fall 2023.
While this segment of The Meadoway is under construction, the existing pedestrian pathway through the hydro corridor west of Neilson Road is now open for public use on weekends.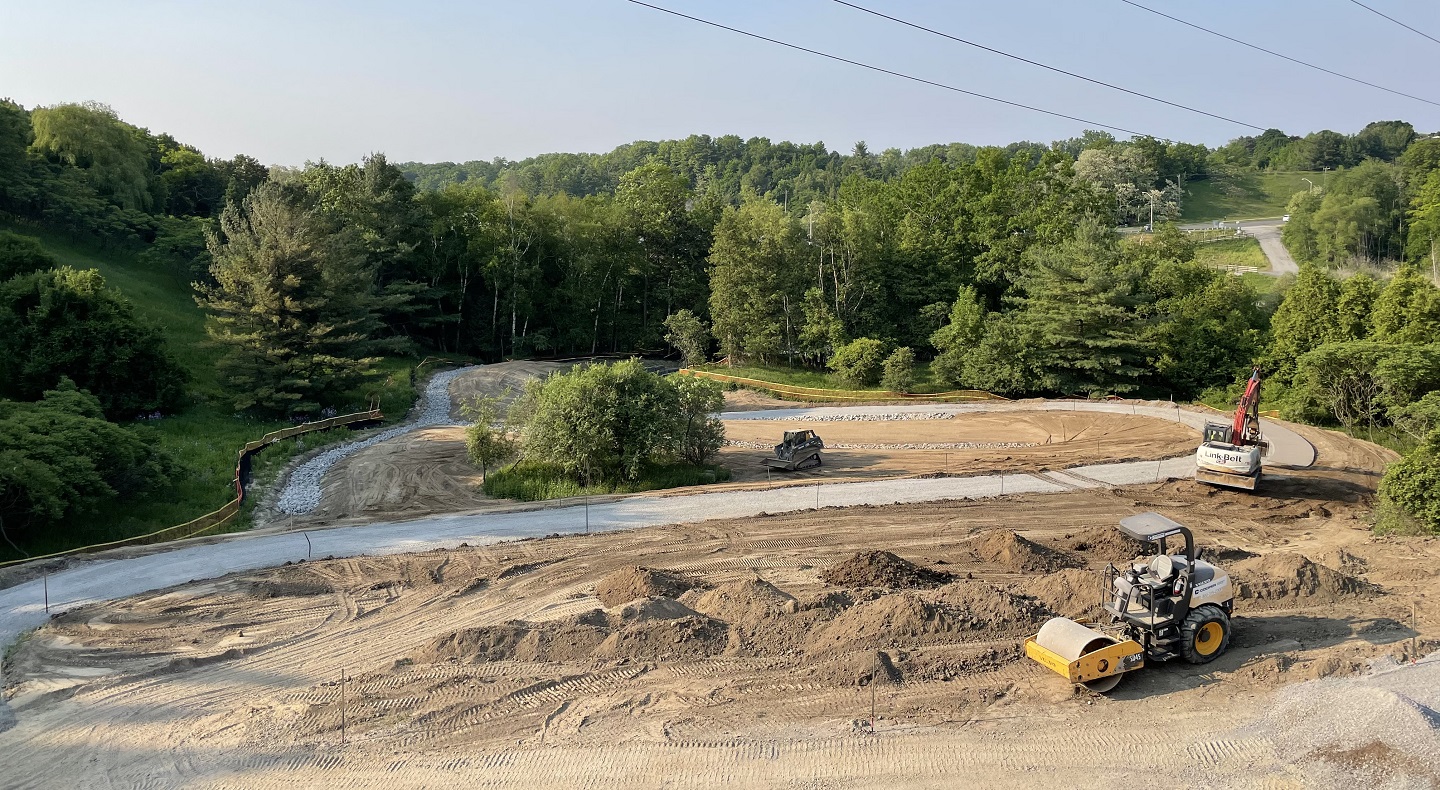 RESTORATION UPDATE
Despite the challenges posed by fluctuating temperatures and precipitation, our teams have responded swiftly and adjusted schedules to ensure that all tasks continue moving forward.
We're proud to share that approximately 3,000 kg of garbage has been collected in preparation for the upcoming works. The management of invasive species along the corridor has also made significant progress, with a total of 10 hectares addressed to date.
Site preparation activities, including mowing, rototilling, and seeding with cover crop, have been completed between Kennedy Rd. to Thompson Park and Neilson Rd. to Conlins Rd.
Additionally, the first round of turfgrass buffer mowing around the meadows has been finished throughout The Meadoway, and we're currently in progress with the second round.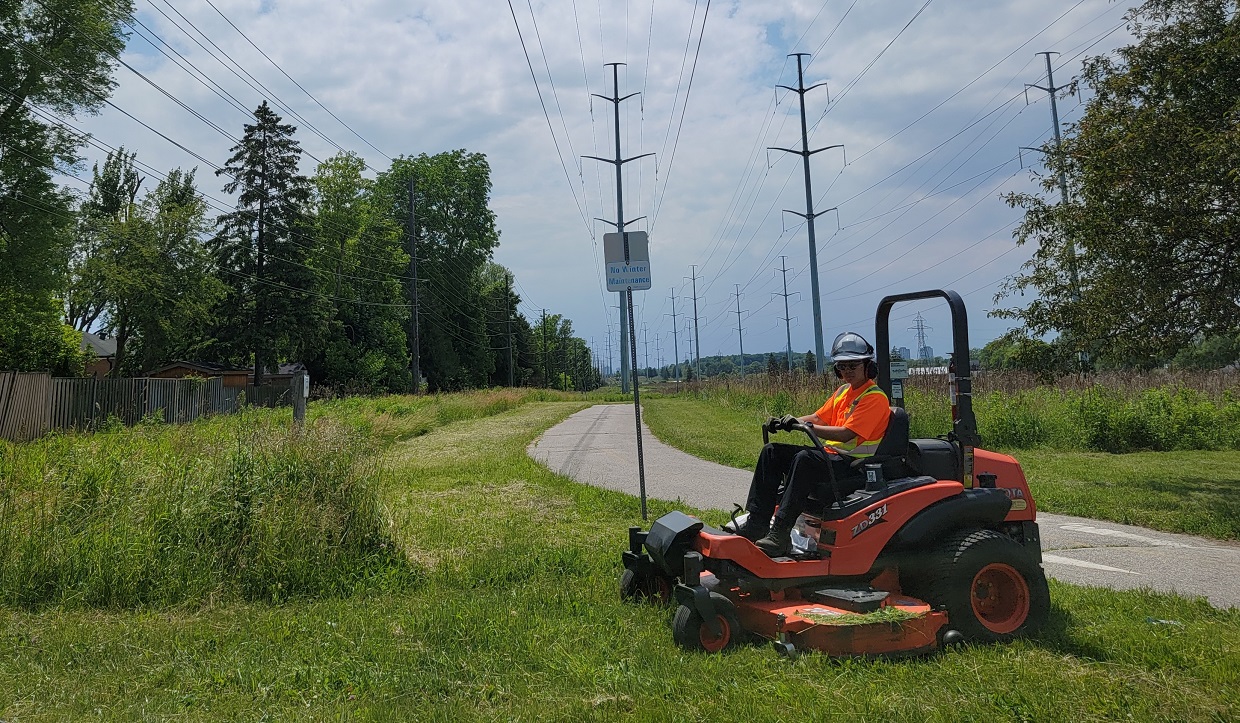 We're excited to share that the City of Toronto has contributed to The Meadoway by planting multiple shrub nodes near Military Park.
Amidst all this work, the return of wildlife and plant species has been a joy to witness! Native seeds that were sown last winter from Scarborough Golf Club Rd. to Neilson Rd. have started germinating, and mature plants in older restoration areas – including milkweed, pussytoes, blue vervain, grey-headed coneflower, false sunflower, foxglove beardtongue, and evening primrose – are thriving.
This resurgence of native plants has attracted a variety of butterflies, bird species, and other pollinators, including monarchs, savanna sparrows, and mining bees.
EDUCATION: SCHOOLS AND SCHOOL GROUPS
What a special spring it has been for students who live in and go to school around The Meadoway!
The education team is always so inspired by the young people who come out to learn more about The Meadoway project, how it relates to them as local residents, and to get their hands dirty as they work to steward the land!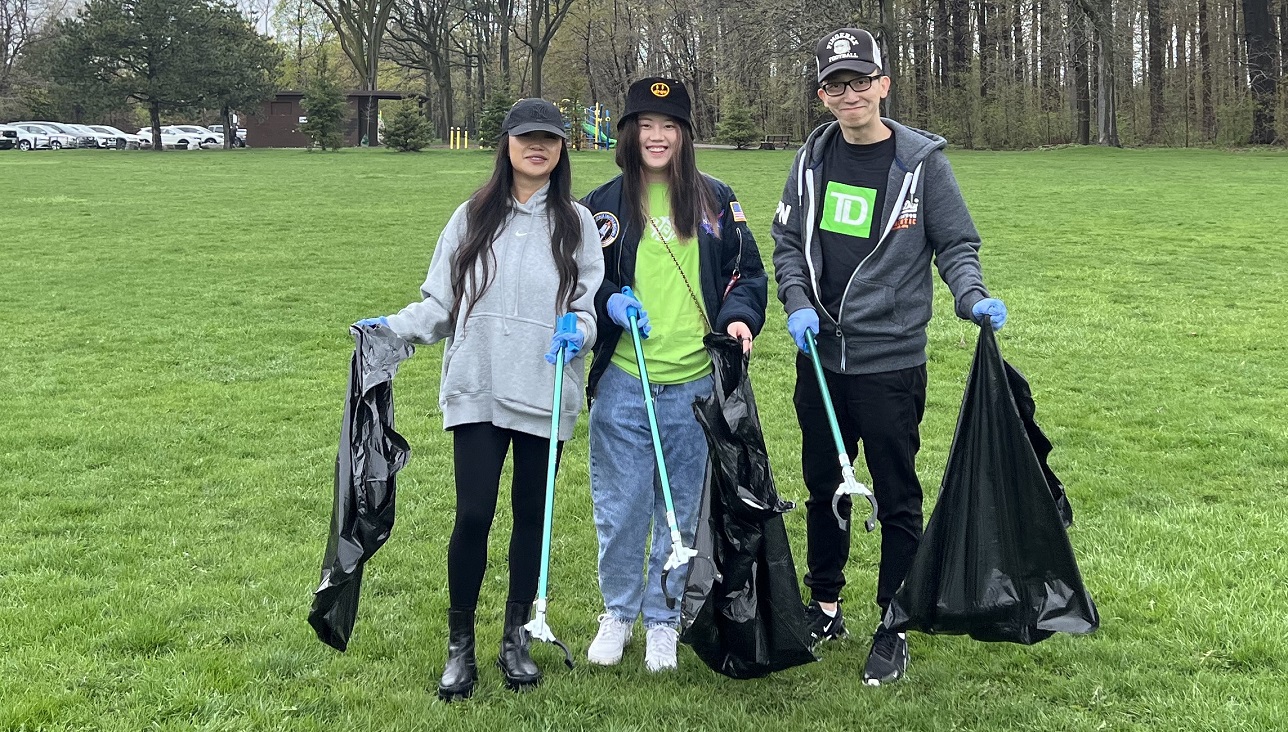 With 15 school field trips taking place in a variety of locations along the corridor, students from grades 1-10 came out to The Meadoway and learned about exciting topics like invasive species, winged migration, and native plants.
Students learned that when we all work together, we can support climate action in our shared spaces. The future is bright in The Meadoway!
April 2023
2023 IMPLEMENTATION AND RESTORATION
IN SECTIONS 3 AND 6
The Meadoway's trail network will grow in 2023 as we continue to implement sections to fill in the remaining gaps.
This includes building a new trail within the hydro corridor between Military Trail and Morningside Avenue, as well as extending through the hydro corridor west from Marcos Boulevard to Arsandco Park.
Toronto and Region Conservation Authority (TRCA) will also begin meadow restoration in these sections of the corridor, converting 21 ha of mown lawn to native meadow.
The implementation work will include site preparation (mow, till, and overseed with a cover crop) from May to October, with final meadow seeding occurring from October to end of December.
The two new meadow restoration locations are immediately west of Midland Avenue to Brimley Road and immediately west of Military Trail to Conlins Road.
NOTICES OF CONSTRUCTION:
Section 3: TTC Line 3/GO Stouffville rail corridor to Brimley Road – VIEW THE NOTICE OF CONSTRUCTION
Section 6: Immediately west of Military Trail to Conlins Road – VIEW THE NOTICE OF CONSTRUCTION
December 2022: Year End
CONSTRUCTION NEWS
Since The Meadoway was formally launched in 2018, establishing a fully connected, 16 km multi-use trail system linking the East Don Trail to Rouge National Urban Park has been a top priority for the project team.
Several years of meticulous planning, design, and consultation with the local community culminated in a milestone year for The Meadoway in 2022, as we broke ground on the first major trail gap to be filled.
The 2 km long trail will route users through recently converted meadow habitat within hydro corridor lands, as well as down into a spectacular section of the Highland Creek ravine just north of Morningside Park.
A number of unique trail features help this portion of The Meadoway stand out from the rest, including an elevated boardwalk through a provincially significant wetland, a pedestrian-cycle bridge over the east Highland Creek, and a direct connection to the recently completed Upper Highland Creek Pan Am Path.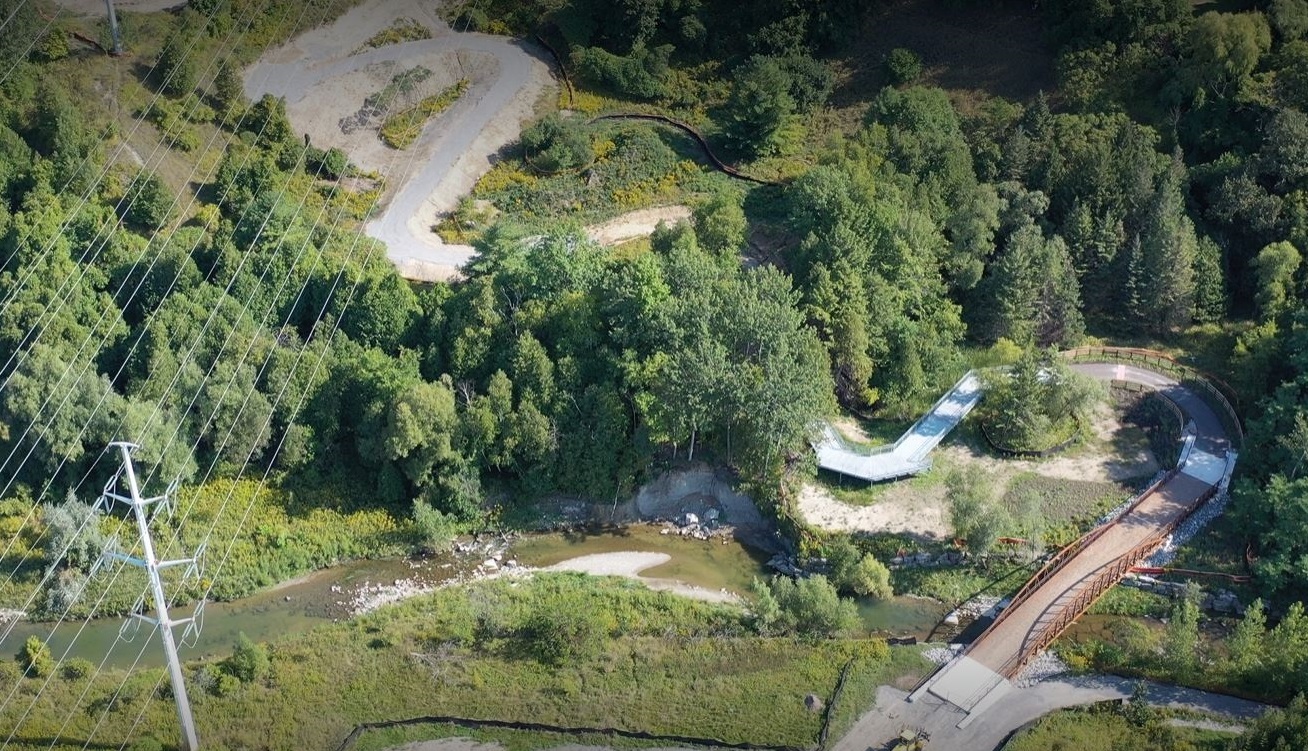 Built with accessibility in mind, the trail design minimizes steep grades while navigating challenging terrain and sensitive ravine habitat. A number of rest nodes will be constructed, offering excellent vistas of exposed bluffs and dense tree canopy.
Following full completion and site clean up, a comprehensive restoration and planting plan will be undertaken in 2023 that will include the placement of almost 1,000 trees and 7,000 riparian shrubs, supported by the extensive meadow restoration that is already underway. SEE BELOW.
We have big plans for 2023 as we continue to drive forward the construction of the remaining trail gaps within the Meadoway trail network.
This will include new trail built within the hydro corridor between Military Trail and Morningside Avenue, as well as a significant section of hydro corridor west of Thomson Memorial Park to Arsandco Park.
More information on these exciting new sections will follow in the new year. Stay tuned!
MEADOW RESTORATION NEWS
The meadow restoration team has had an excellent field season, as The Meadoway continues to transform into productive meadow habitat with the support and dedication from our field staff.
Meadow restoration and adaptive management has continued into the summer and fall of 2022, focusing on the Section 5 site preparation of 21 ha (Scarborough Golf Club Road and Neilson Road along Ellesmere Road). Native meadow seeding will be completed in late November to late December on the 17 ha within that footprint.
The meadow restoration crew size was increased this year to cover adaptive management and monitoring throughout the existing/established areas (sections 1, 2, 4 and 7), totaling 104 ha.
The activities being completed in these areas include management for invasive species, buffer mowing, meadow maintenance mowing and garbage collection.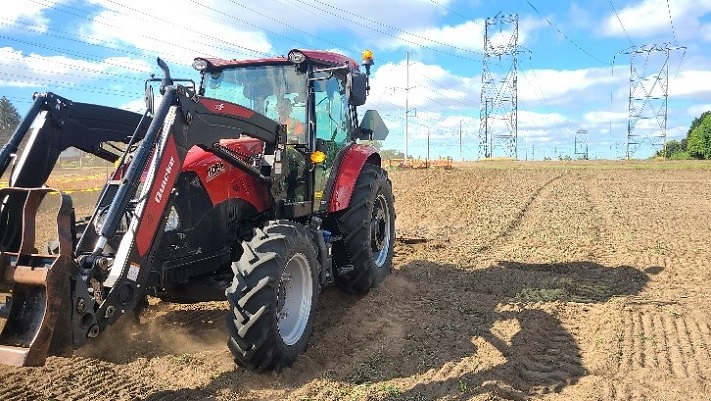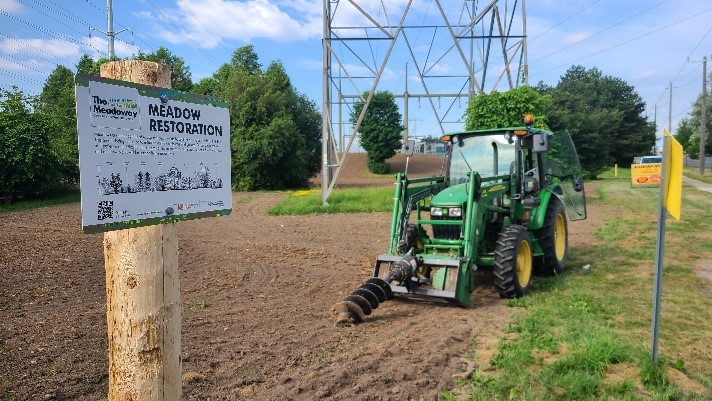 TRCA's monitoring teams have completed their field analysis for birds/butterflies transects and flora plots and data is currently being reviewed, with the monitoring report to be completed by January 2023.
The Meadoway Restoration Manual was also published this year, providing practitioners with the methods and recommendations that the Restoration Team has learned over the years.
Finally, the Restoration Team has also hosted a variety of virtual and in-person informational tours that have showcased the hard work that the team has done over the years, some of the successes, and the resultant benefits of The Meadoway.
SECTION 1
This portion of The Meadoway runs from the edge of the Don Valley at Bermondsey Road to Victoria Park.
The meadow footprint was seeded in the spring of 2020, so this was its third year of growth. Activities completed here include removal of woody stemmed invasives, cleanup of fence lines, and buffer mowing around the meadow footprint.
The team is also preparing some areas for overseeding to increase the species diversity.
SECTION 2
The meadow areas from west of Warden to Kennedy Road south of Lawrence completed their second year of growth in 2022 and had a phenomenal year as species diversity increased and plants matured.
A lot of work was completed in these areas by restoration staff to conduct maintenance mows, invasive species management, overseeding trials and the mowing of the buffers along the meadow edges.
Seed collection also occurred here as we try to source our own seed for new sections.
SECTION 4
This section, previously a part of the Scarborough Centre Butterfly Trail, runs from Thompson Memorial Park to Scarborough Golf Club Road and is the most mature meadow ecosystem within The Meadoway.
The Restoration team worked on activities such as maintenance mowing and invasive species management to encourage additional growth of native species and limit the establishment of the non-natives.
The eastern part of this section connects to the newly prepared meadow area (see before and after aerial images below), so trail users will be able to observe the differences and compare the more mature meadow to the new one as it ages.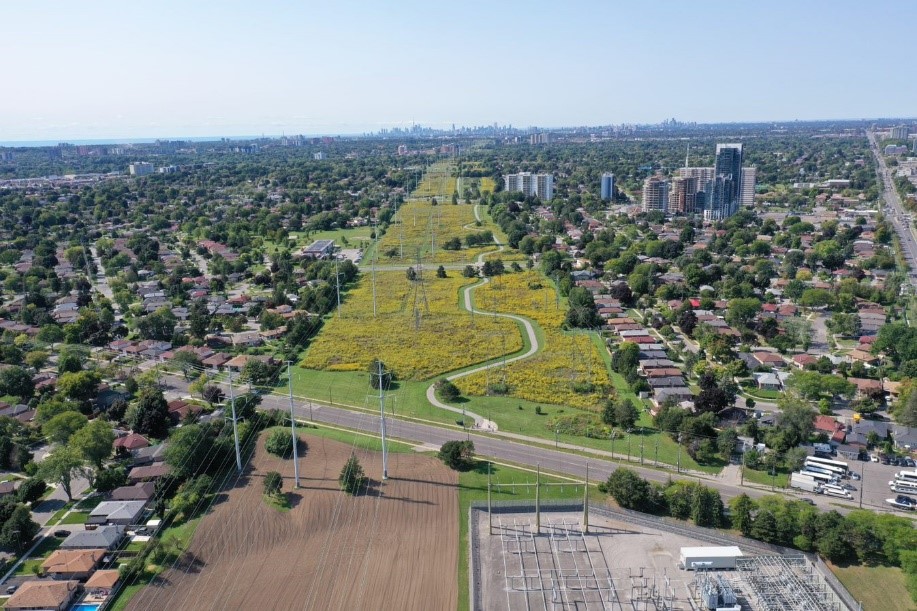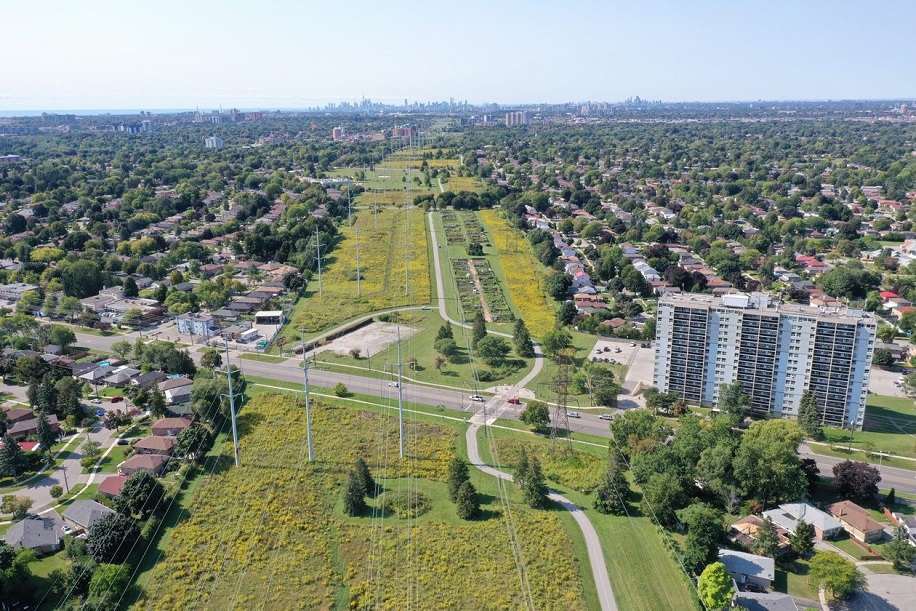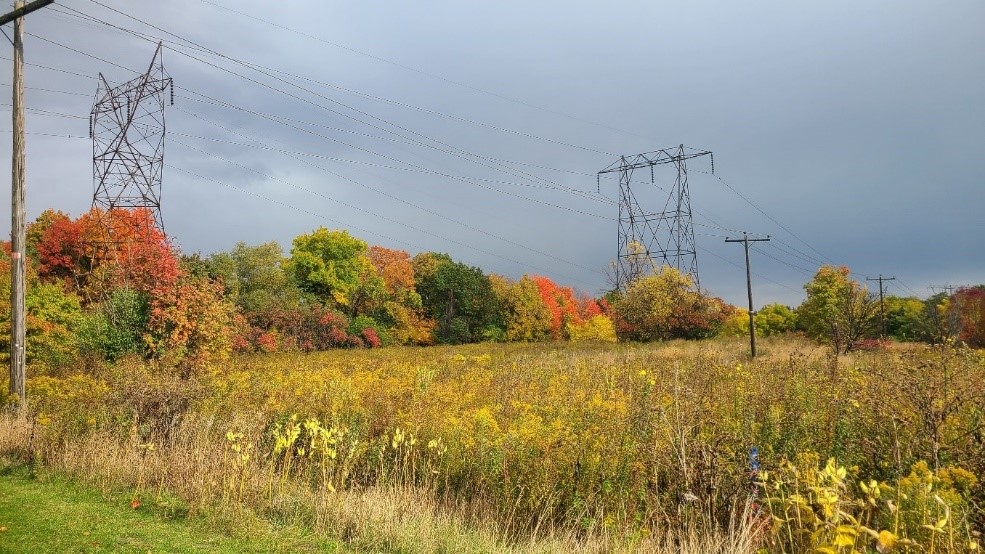 SECTION 5
The newest addition to The Meadoway is the section between Scarborough Golf Club Road and Neilson Road along Ellesmere Road.
This summer, the team completed four full rounds of site preparation on the 17ha of proposed meadow footprint. We were then able to put down our custom native seed mixes using our new seed drill, to ensure adequate spacing and uniformity.
The team also worked to prune back and mow the buffer areas around the meadow footprint, place informational signage, and remove the old tree stumps.
A lot of research was also conducted by the restoration team on topics like soil health, best practices for site preparation, and invasive species removal strategies.
SECTION 7
The area north of the 401 from Conlins Road east to Meadowvale received a lot of invasive species management in 2022. Our restoration team did a great job removing the Spotted Knapweed and Tree of Heaven.
September 2022
Some exciting news from The Meadoway: the permanent bridge is now in place!
Once complete, the bridge will take users over the East Highland Creek to an elevated boardwalk. An accessible switchback trail on the east slope of the ravine will take users back into the hydro corridor and newly restored meadow habitat, where it will connect to Neilson Road.
Bridging this gap in The Meadoway is a huge project milestone for this iconic trail system.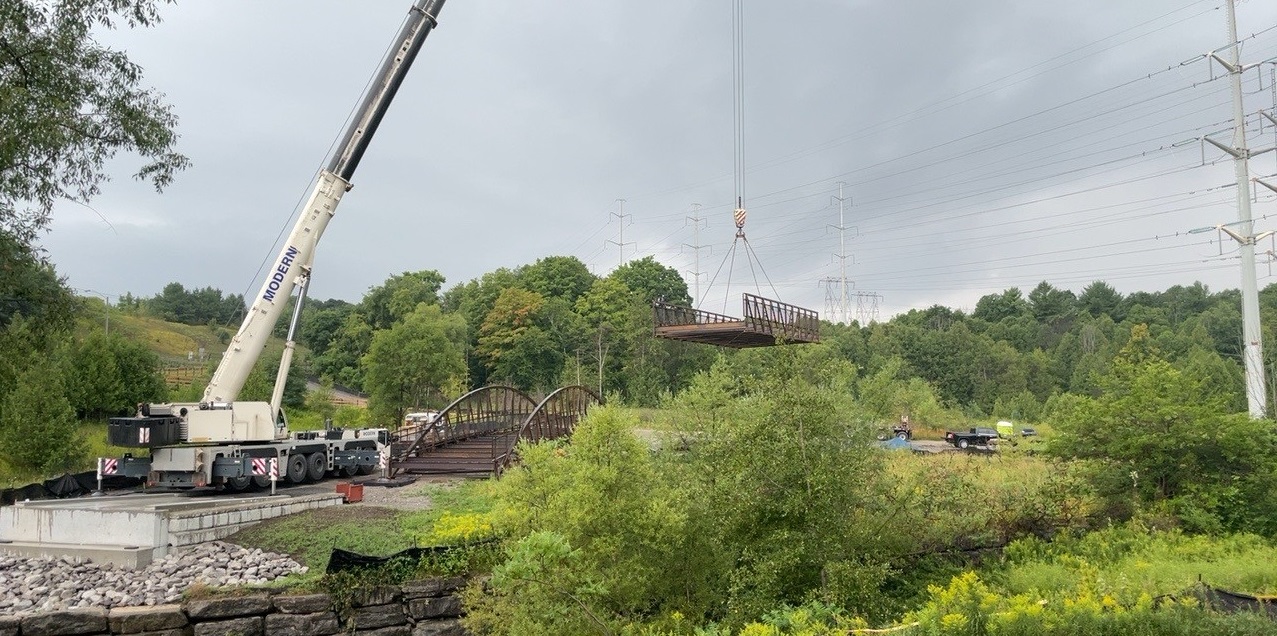 Following completion of the bridge installation and formalization of the switchback and at-grade trail, disturbed areas will receive a layer of topsoil and terraseeding, followed by additional planting by TRCA's Restoration Ecosystem Management team in early 2023.
Stay tuned for updates on when construction of this section of The Meadoway, from Military Trail to Neilson Road, will be complete and open to the public.
July 2022
As shown in the photo below, paving and fence installation is well underway as crews work towards completing the Meadoway multi-use trail connection from Military Trail along Ellesmere Road to Neilson Road.
The next major milestone will be the installation of a permanent pedestrian/cycling bridge across East Highland Creek. Stay tuned!