What's Happening NOW
in The Meadoway
There's always something on the go in The Meadoway , as Toronto and Region Conservation Authority (TRCA) works to transform a 16 km stretch of the Gatineau Hydro Corridor into a thriving meadow.
Check this page regularly for the very latest on our restoration efforts and the multi-use trail design.
UPDATE: November 25, 2020
TRCA Wins 2020 Brownie Award for The Meadoway
Toronto and Region Conservation Authority (TRCA) is thrilled to be this year's recipient of the prestigious "Reach Out" Brownie award for The Meadoway.
Founded by the Canadian Urban Institute, the Brownie Awards recognize innovative rehabilitation efforts by organizations focusing on under-utilized and underdeveloped spaces by remaking them into projects that contribute to healthy communities. The awards are an annual celebration of the outstanding work in remediation and redevelopment of brownfield sites across Canada.
The "Reach Out" award is for excellence in communications, marketing, and public engagement. It recognizes TRCA's collaboration with Toronto design firm Perkins&Will, which featured a suite of digital tools to help tell The Meadoway story.
The resulting Visualization Toolkit includes experiential elements such as augmented reality, animations, videos and conceptional renderings (like the one shown below) from Future Landscapes. The result is a high-tech, compelling visual identity and narrative.
This past spring, the toolkit also played an important role in helping The Meadoway join the prestigious High Line Network in New York.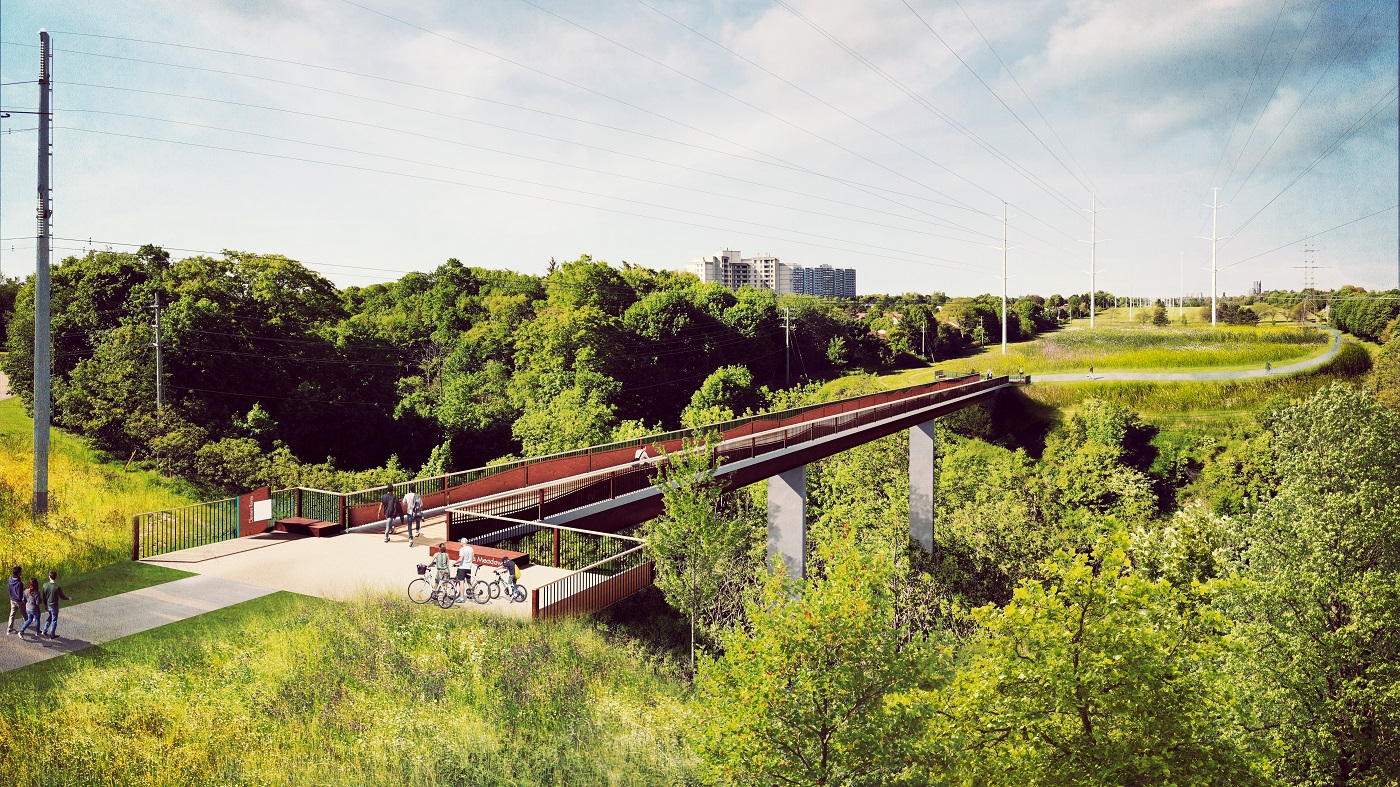 "It's an honour for TRCA to be recognized for its innovation and dedication to building a thriving greenspace for residents of the City of Toronto. It has never been more important for people to be outside and connect with nature. The revitalization of this space, including a multi-use trail through-out a hydro corridor, will transform the way people move in the city." – Jennifer Innis, Chair of TRCA's Board of Directors
"Meaningful communications and community engagement play such a critical role in the ongoing and future success of The Meadoway. As the lead funder of the initiative, our Foundation applauds TRCA for its tremendous efforts to work with the many communities surrounding The Meadoway to ensure it meets the needs of, and is celebrated by, local residents. Congratulations to TRCA and Perkins&Will for this well-deserved award." – Tamara Rebanks, Chair of Weston Family Foundation
The Meadoway will allow users to get up close and personal with the natural environment. We are transforming more than 200 hectares of turf grass into a thriving meadow, creating habitat for native plants, pollinators and wildlife.
The 16-km multi-use trail will travel across Scarborough, connecting Rouge National Urban Park with the East Don trail system leading to the Toronto downtown core.
The Meadoway will also connect 70 schools, 34 neighbourhoods, and 15 parks and will also provide a critical connection between Toronto's ravine system.
That's the latest from The Meadoway! Check back soon for more updates.
UPDATE: September 22, 2020
A NEW Look for The Meadoway!
There's nothing like a fresh coat of paint to make things pop!
In our efforts to let people know they've arrived in The Meadoway, we've added our colours onto the trail. A brilliant blue line has been painted down the centre of the path to separate direction of traffic.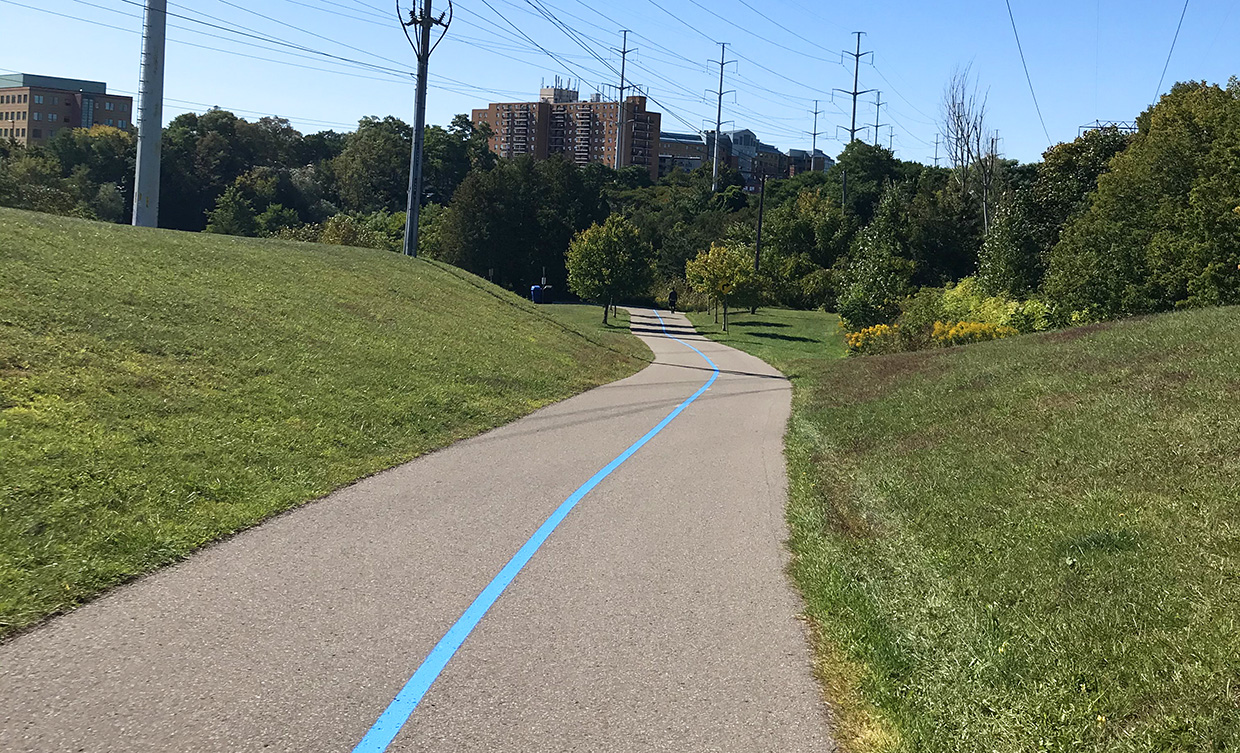 Green logos have also been added at many of the crosswalks. Now it's easier than ever to recognize The Meadoway.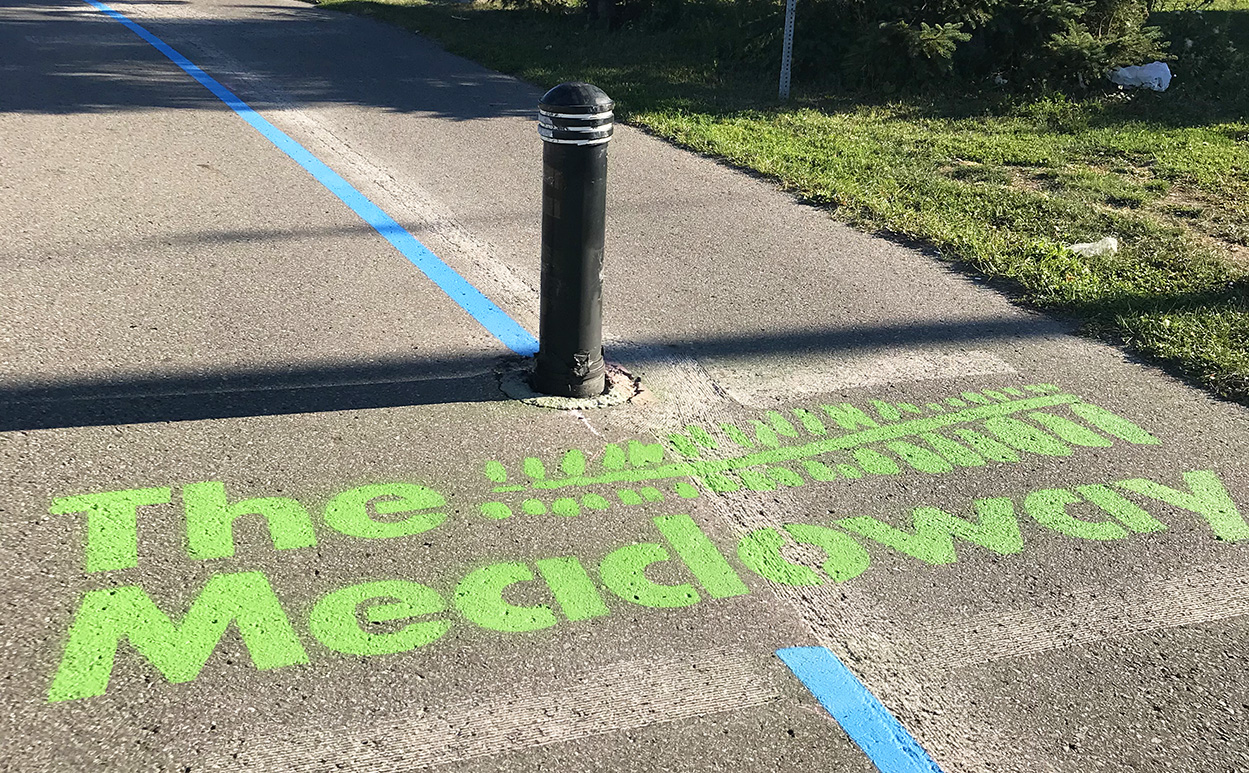 Phase one of The Meadoway, extending from Brimley Road to Scarborough Golf Club Road, is the first completed section of Toronto's newest linear greenway project. It features 3.5 kilometres of continuous multi-use trail with pedestrian crossings and fully restored, thriving meadows.
With the meadows now in full bloom, this the perfect time to visit. Check out the public access map to find the entry points closest to you!
We often use the term adaptive management when describing the important work our crew regularly focuses on in The Meadoway. What does that mean for our project?
Adaptive management requires our team to stay attentive and nimble. We are always monitoring and assessing how each section adapts to site preparation and native meadow restoration.
Each section of The Meadoway is completely different, due to the variety of soil types found across its 16-kilometre span. This and other factors, including the timing of seeding (spring, fall, or winter) and climate-related concerns ranging from drought to heavy rain events, play a decisive role in creating and adjusting the adaptive management plan for each section.
For example, in Section 7, southeast of Dean Park Road and Sheppard Avenue East, we seeded native wildflowers and grasses in the spring. Adaptive management on this 1.5-hectare parcel of land included adding a nurse crop of oats (pictured below) to help protect the native seeds from the summer drought in July by providing increased shade.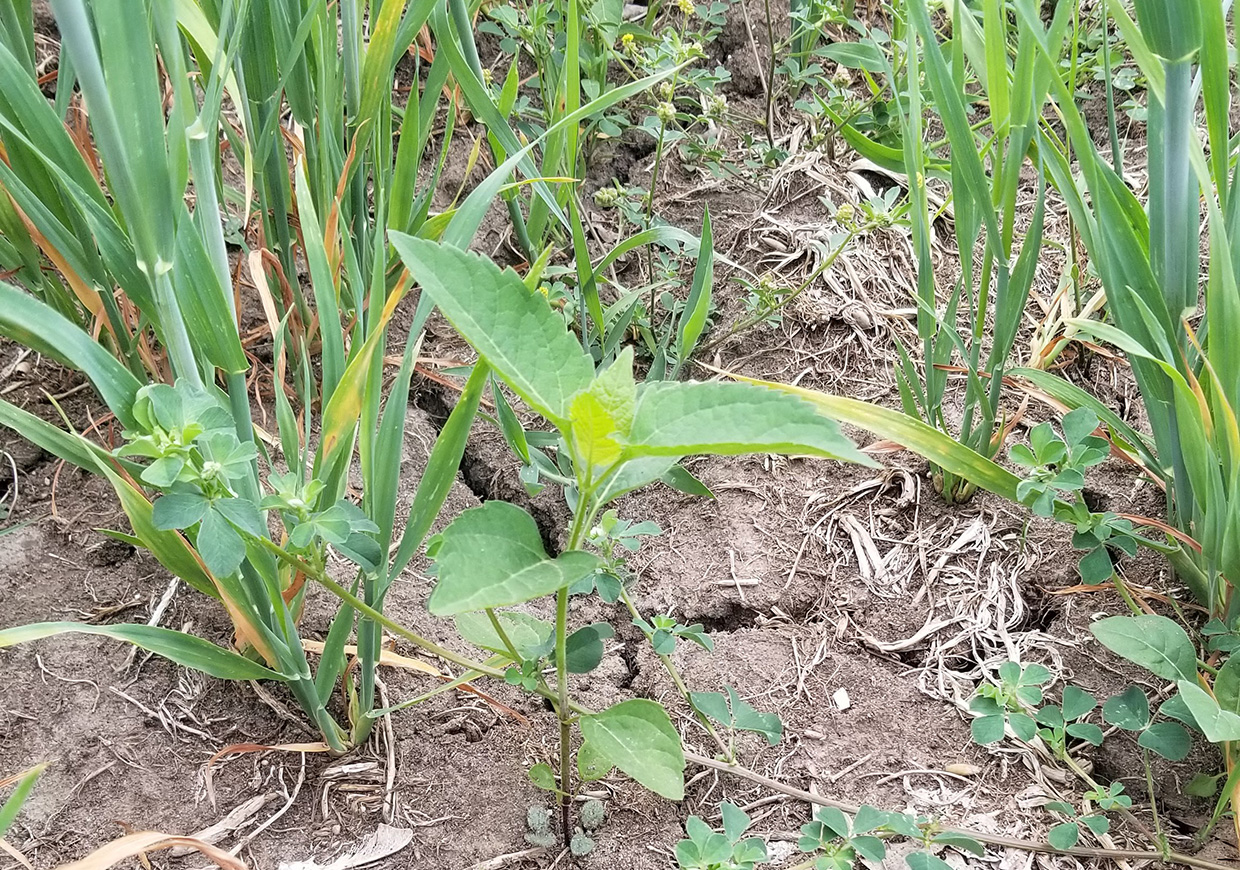 Our ongoing work against invasive species continues this week with a focus on Canada thistle and spotted knapweed. We are always looking for new methods and environmentally friendly treatments.
We are experimenting with a supplier who uses hot steam to eradicate invasive species. We are monitoring the experimental plots closely and will compare results with a variety of other methods.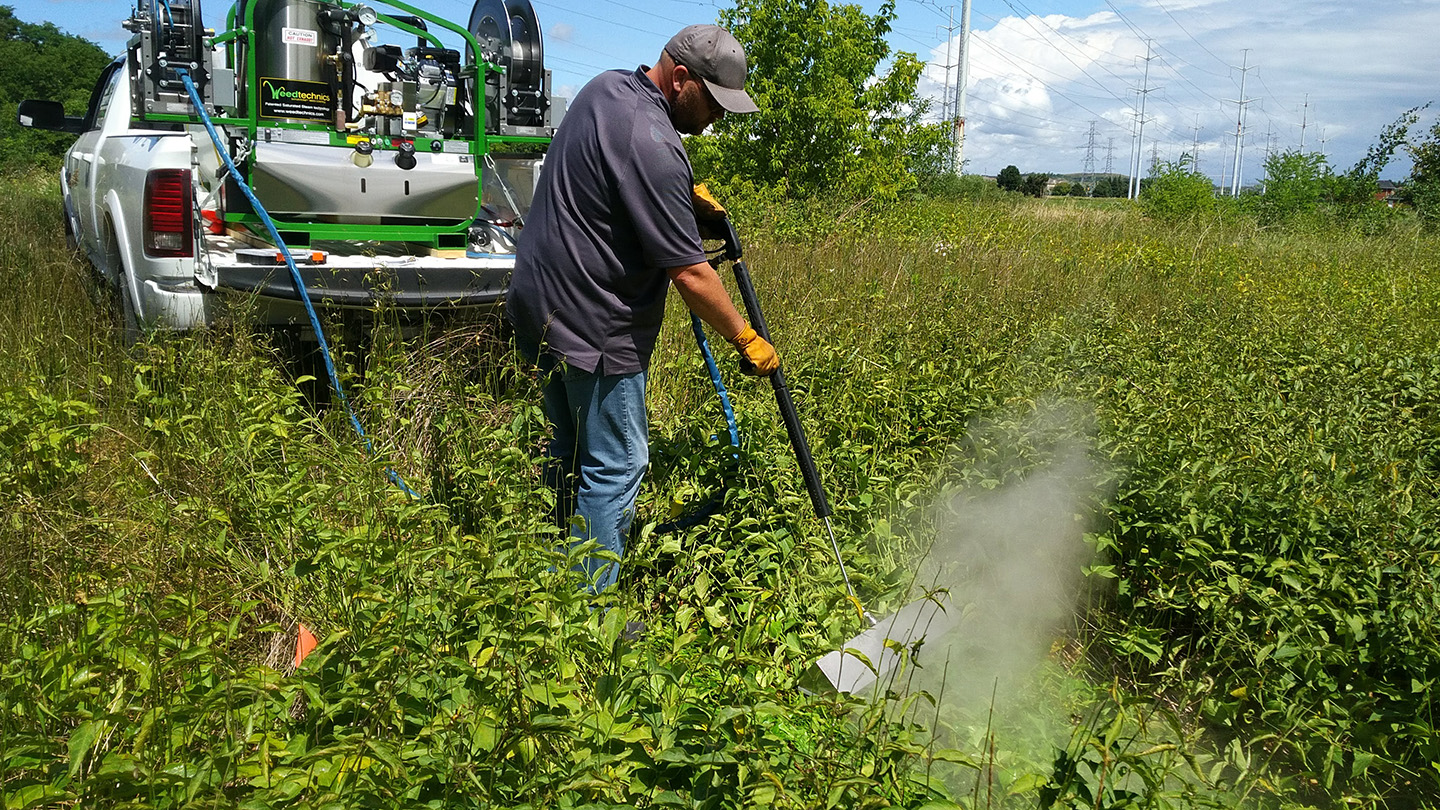 We love before and after photos as much as you do! Site preparation continues in earnest as we work towards our goal of a fully seeded Meadoway by 2024. The images below show section 2.1 (the area between Kennedy Road and Birchmount Road) before and after tilling and buffer mowing. Planting native seeds is up next this fall!
What's blooming now in The Meadoway? Bergamot (Monarda fistulosa) with a visitor: a silver spotted skipper butterfly (Epargyreus clarus).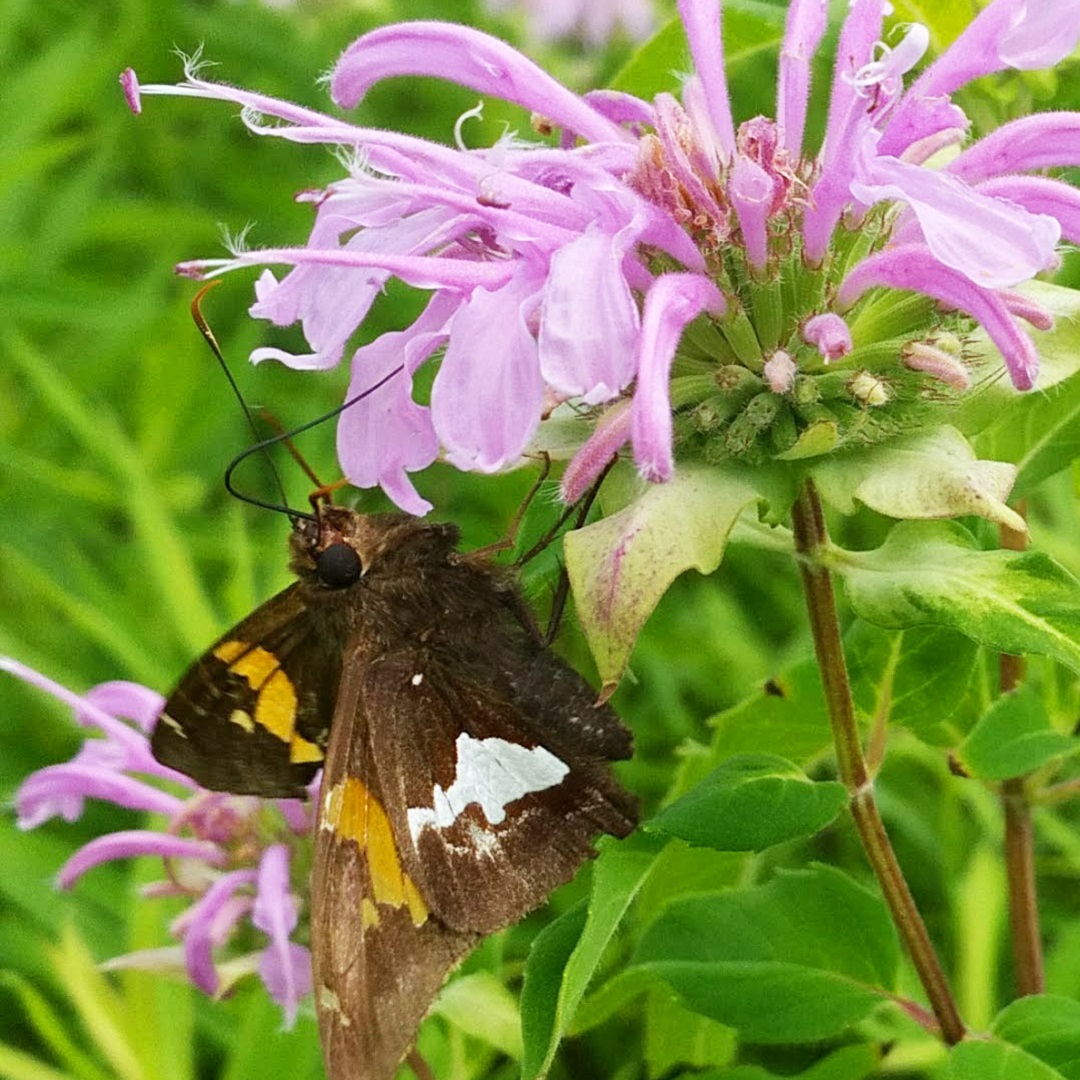 Good news! Soil conditions have improved after The Meadoway received some much-needed rain this week.
Preparing the ground for planting native species this fall involves churning up the soil with heavy equipment. During dry conditions, this generates an enormous amount of dust and dirt.
Now that there's been some rain, you'll see crews back in the corridor working the soil.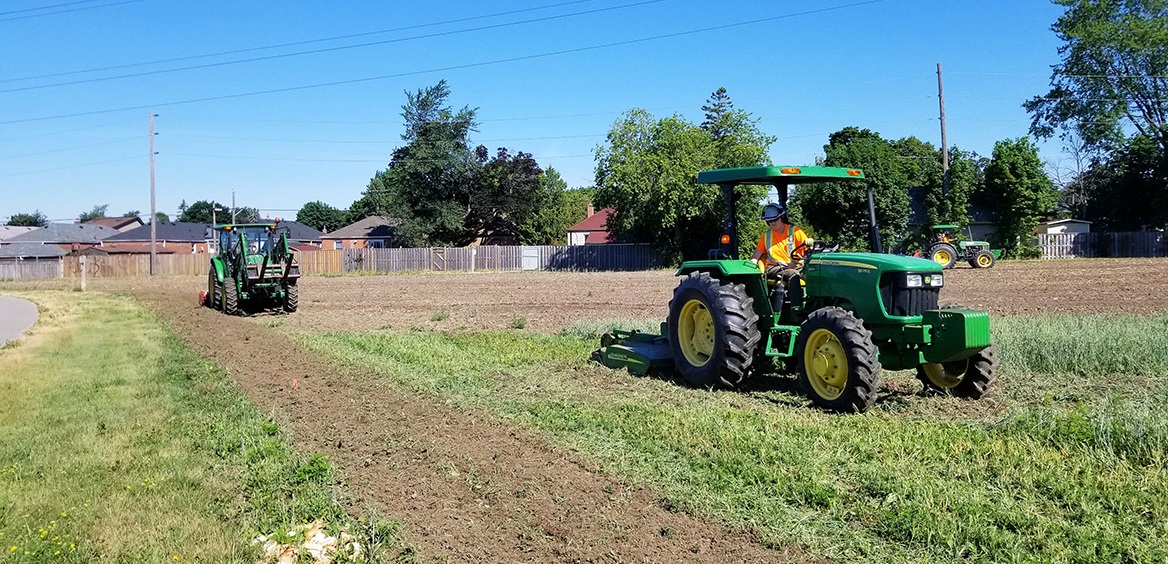 We often talk about the advantages of native meadow plants and their long root structures. Even with weeks of very little precipitation, there is no sign of heat stress on the native plants.
Our restoration team has also adjusted their site preparation due to the intense heat. The "nurse crop", which was seeded with the native wildflowers and grasses this spring, has been able to protect the new native seedlings while they grow during periods of drought.
The native plants benefit from the shade of the nurse crop, and the nurse crop also helps to push out any non-desired species trying to push through.
Newly seeded native plants are thriving in The Meadoway. If the nurse crop becomes too tall or thick, it will be given a high mow cut to help open sunlight for the native species below.
Tackling invasive species is an ongoing challenge. Pulling them by hand is hard work — but necessary to keep the meadow healthy.
There's no doubt the colour yellow pops this time of year, thanks to one of our Meadoway marvels.
False sunflower (Heliopsis helianthoides) looks similar to another familiar Meadoway denizen, the cup plant. However, the false sunflower's leaves don't clasp the stem to form the distinctive "cup" feature that gives the cup plant its name. Instead, the leaves attach to the stem with thin stalks.
A Living Lab Underneath a Hydro Corridor
July 16, 2020
Connecting an urban community with nature is at the heart of The Meadoway.
The project is also a model for how the conversion of mown grass to native meadow habitat in urban environments can help mitigate the effects of climate change — including providing protection against flooding, reducing invasive species, and improving air quality.
Scientific research is a key component to The Meadoway story.
There are a variety of investigative projects underway, including a partnership with the University of Toronto's Dr. Jennifer Drake to examine the hydrologic improvement brought on by meadow restoration.
The goal is to track and predict the performance of The Meadoway's flood control capacity under various climate scenarios.
To begin, Dr. Drake and a team from Toronto and Region Conservation Authority (TRCA) set up a series of experiments on a particularly hot day in July to measure and contrast the "infiltration rates" of established meadow versus mown grass test plots.
Photo gallery: Use arrows to cycle through images.
A common technique in hydrology and soil science, infiltration rate is the speed at which water on the ground surface enters the soil.
Harder, more compacted soils with little vegetation (such as lawns) typically have lower infiltration rates, which can slow or prevent rainwater from entering the soil during a rain event, and which and contributes to flooding.
By introducing diverse meadow species with deep roots that break-up the soil and soak up water, it is hypothesized that The Meadoway will function as a sponge during storms and reduce the amount of rainwater that flows into city streets and rivers.
Dr. Drake and her team are aiming to test that theory, and will be collecting data throughout 2020 that will be analyzed for a range of issues, including the effects that meadow restoration has on soil properties, nutrient retention, and the response of ecosystems to changing hydrologic conditions.
The work has just begun! Stay tuned for more research highlights as we continue to gather data and uncover the impacts of transforming an under-utilized corridor into a vibrant greenspace and urban connecter.
The Meadoway Invited to Join the Prestigious High Line Network
June 29, 2020
Toronto and Region Conservation Authority's (TRCA) ambitious city-building initiative, The Meadoway, has been selected by the High Line Network in New York to join their international network of infrastructure reuse projects.
The High Line Network fosters collaboration between infrastructure project teams to help these valuable community initiatives reach their full potential. This is only the second time in the Network's history that the highly-regarded organization has extended an invitation to a Canadian project.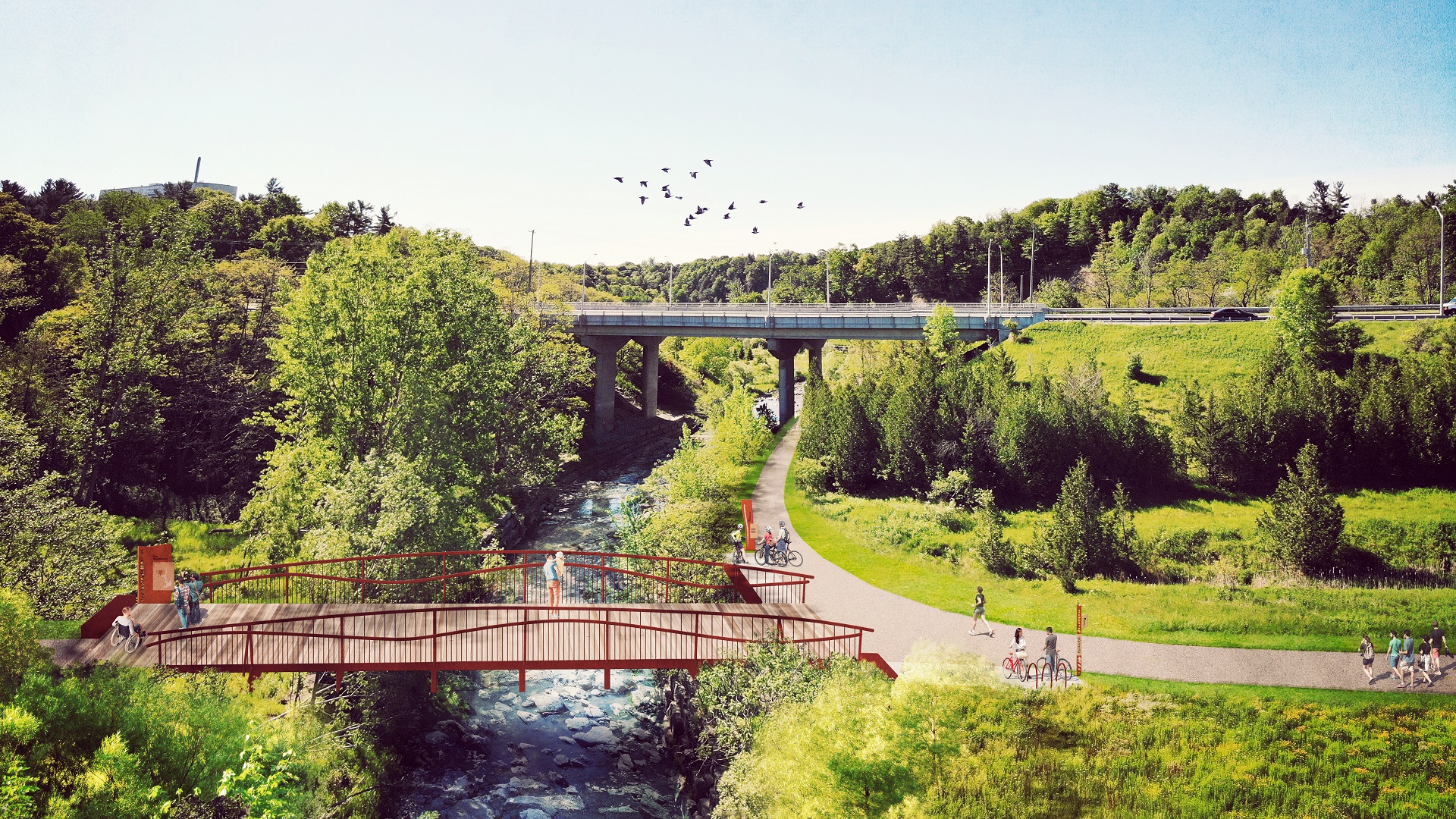 "We believe your commitment to reusing infrastructure to create dynamic open spaces will be a worthy addition to our learning community," said Asima Jansveld, Vice-President of the High Line Network.
Thanks to the vision and generous support of the Weston Family Foundation, The Meadoway will transform the day-to-day lives of thousands of Torontonians, giving them easy access to nature.
The 16-km, 500-acre hydro corridor will connect Rouge National Urban Park with the Don River path system leading to the downtown core.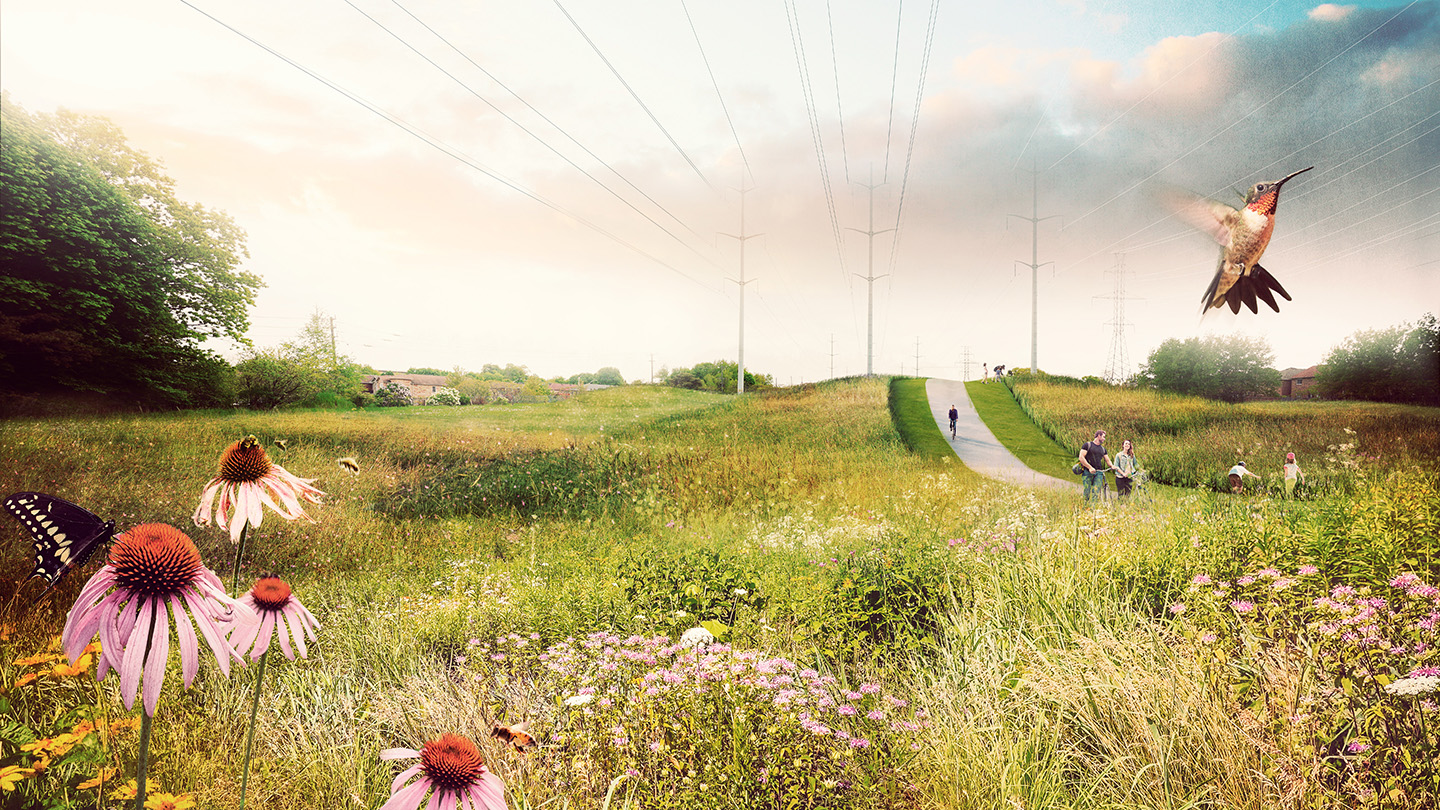 "We're delighted to see The Meadoway join this group of innovative urban infrastructure projects," said Tamara Rebanks, Chair, Weston Family Foundation.
"With more and more Canadians living in cities, the need to reimagine these underutilized spaces grows to provide places for communities to connect with nature and each other."
The Meadoway will connect users to the natural environment, as more than 200 hectares of turf grass are transformed into a thriving meadow, creating habitat for native plants, pollinators, and wildlife.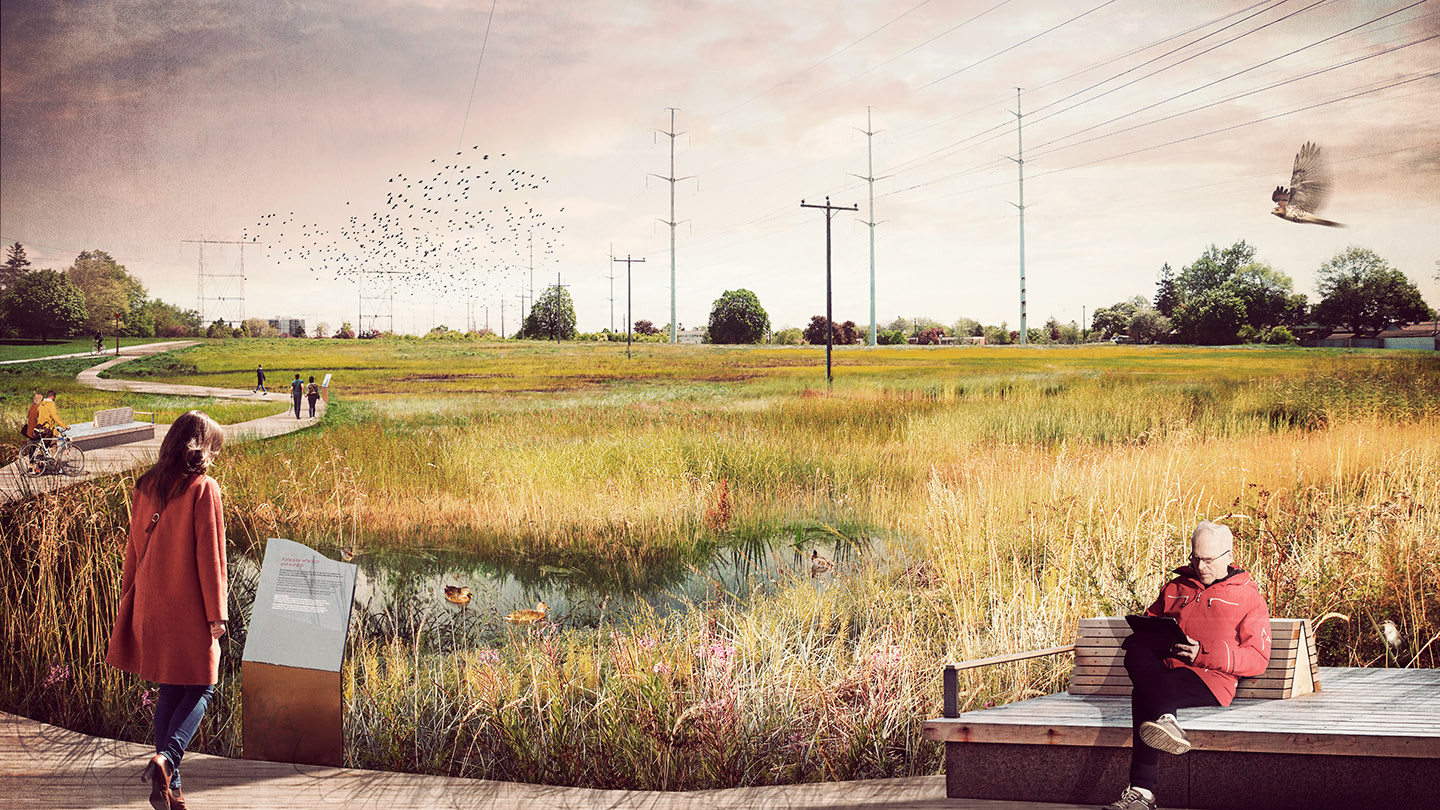 "It's a tremendous honor and recognition of TRCA's creativity, vision, and dedication to integrating natural and built environments that The Meadoway has been invited to join the prestigious High Line Network," said Jennifer Innis, Chair of TRCA's Board of Directors.
"When complete, this multi-use trail along a hydro corridor will transform the way people move, and breathe new life into Toronto and its surrounding communities. A special thank you to the Weston Family Foundation for their generous support in making this a reality."
Slated to be completed in the fall of 2024, The Meadoway will connect 70 schools, 34 neighbourhoods, and 15 parks, and will provide a critical connection between Toronto's unique ravine system.
In a previous update we mentioned the importance of doing nest checks before we bring in the mowing equipment.
When our crews spot wildlife, they mark the location and give it a wide berth.
Recently, crews have been seeing a lot of ground-nesting birds, including killdeer and Savannah sparrow. This week, in fact, a team member snapped this photograph of a newly hatched killdeer!
Speaking of wildlife, another sharp-eyed crew member managed to grab a photo of this fawn strolling across the path.
When you see a group of our dedicated restoration team members trimming along fences, it isn't just about making things look tidy — it also helps to control invasive species.
Dog-strangling vine, for example, is an invasive plant that tends to grow heavily along fences. Keeping it cut back helps to prevent additional seeding.
Mowing the buffers between the meadow and shrub nodes (as shown below) is another way to prevent the transfer of invasive species into the meadow.
So what's blooming in The Meadoway this week? Say hello to Coreopsis tripteris (sometimes called tall coreopsis or tall tickseed) and blue flag Iris (Iris versicolor).
This time of year, it's non-stop activity in The Meadoway.
It's a common sight to see our crews using a range of equipment for mowing, trimming, planting, and a variety of other tasks!
The first round of site preparation is now complete, from Victoria Park Ave to Kennedy Road. The cover crop of oats is growing well, and next week crews will begin the second round of site prep.
As for the stars of the show, many of The Meadoway's native plants are starting to bloom.
This past week it was wild lupin (Lupinus perennis). Be sure to look for some on your next visit — but don't wait too long! This species only stays in flower for a couple of weeks.
Something new! We are adding QR code stickers to our signs in phase one of The Meadoway, from Scarborough Golf Club Road to McCowan Road. Scan one with your phone the next time you visit!
Check out The Meadoway visualization toolkit to try some of our QR codes.
There are many native species now appearing in a section that was seeded last year. It's mostly black-eyed Susan starting to poke up from the grasses (see image 1 below).
This area will be full of flowers soon, like the established area shown in image 2.
This week, it's all about our cover crop.
Rye and oats are key to site preparation, which is the most important step in meadow restoration. This blog post explains why.
The rye we planted last year is now over 30 cm tall in some sections. Our crews always conduct a sweep through the tall rye for nesting birds before bringing in tractor equipment. Any nests are marked with a wide buffer and avoided.
The last of the rye was cut this week! We don't want it growing any larger, since we want to avoid reseeding.
Fall rye is seeded late in the year and helps to stabilize the soils from erosion while also helping to suppress non-desired weeds forming in the meadow footprint.
This year the field will be mowed and tilled, and a cover crop of oats will be seeded. We'll do this three times, from spring to fall.
This process helps to reduce the existing non-native seed supply in the fields, and prepares the site for fall native wildflower and grass seeding.
Periods of hot weather and intermittent rain create ideal growing conditions for grass. Our crews were busy tending to our mown buffers again this week. This is important to reduce the spread of invasive species and create a walking corridor bordering the meadow plots.
Last week, staff turned up a horseshoe in The Meadoway. This week brought another surprising find! A rare species was spotted outside of the meadow footprint: a lady's slipper.
When it comes to weeds, fellow gardeners know the feeling: you can never let your guard down!
It's the same for invasive species. A great deal of effort goes into controlling non-native plants in The Meadoway. Our crew found large patches of garlic mustard this week under many trees. It was all dug out before the seeds could mature.
Have you noticed how many bumblebees are out and about? This one was captured feasting on the flowers of a fragrant sumac.
Keeping the mown buffers around The Meadoway tidy is important for many reasons.
Most important, allowing a space between the neighboring yards and the meadow encourages a leisurely stroll along the entire perimeter.
Check out the before and after images.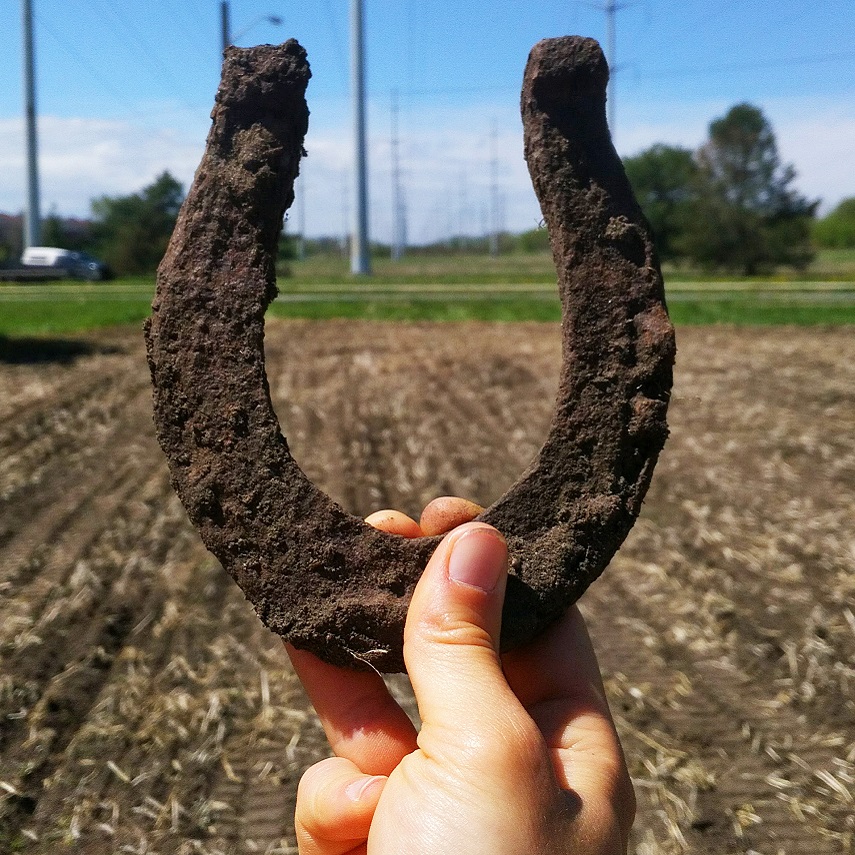 Official archaeological surveys are conducted in The Meadoway, and every now and then something turns up. We'll take this lucky horseshoe (left) as a sign of good things to come!
It's all about soil prep and cover crop seeding this week in The Meadoway!
It's been easy to spot our crews working hard on their meadow restoration checklists.
Garbage cleanup this time of year is a priority — as is non-native shrub removal within the meadow footprint. It's important to keep invasive woody vegetation from establishing and spreading in the hydro corridor so it doesn't out-compete the native flora.
The rye planted last year as a cover crop is now over 30 cm tall in some areas! Our crews will mow and till these sections to prepare the soil for planting native grasses and wildflowers in the fall.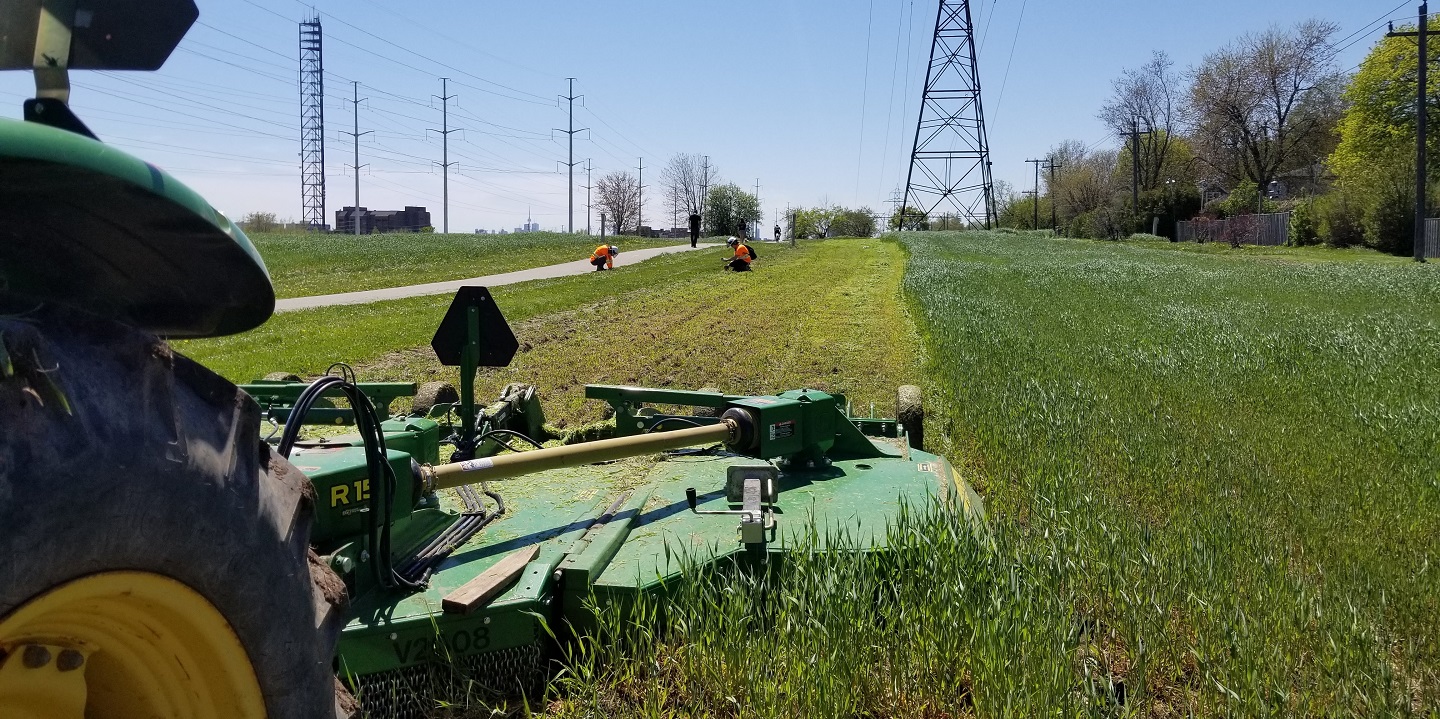 Grass mown buffers (like the one pictured above) are a distinctive feature of The Meadoway. They separate the multi-use path from the meadow with a 3.25m mown buffer that contributes to the safety of trail users by providing clear sight lines.
The homes that back onto the corridor have a 5m mown buffer, which keeps the vegetation away from the fence lines.
Native seed mix trials and research are also ongoing priorities. A variety of new seed mixes are now in the experimentation stage. We are also monitoring how a mix with a higher percentage of grass seed compares to one with lower grass components.